In Memory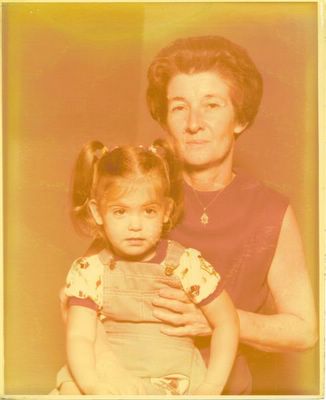 Mary Florence Johnson (1923-2004)
She lived in a poor little home all her life and by the time she was 81 it wasn't much more than a shack. She was widowed at the age of 40, with two daughters and two sons left to raise. She never sought for anything more than what she had and lived her life for her children. She was Catholic, although I don't believe she knew her faith much at all. It wasn't before my conversion that she realized that missing Sunday Mass was a sin, but as soon as she knew it she was there every Sunday. She prayed everyday... She prayed the rosary three times a day (in record time) and read every little prayer and letter from various priests that she got in the mail (Priests of the Sacred Heart, Miraculous Medal Association, etc.) She loved the little trinkets they sometimes sent her and always had one of them around her neck or pinned to her dress (notice the MM around her neck in the picture). She was my "little monmon" when I was a child, "me-me" after I had children, and now she's my beloved grandmother in heaven. I never knew the beauty of her soul until she died, but the moment her soul was released from her body it seems to me that God rent the heavens for a little while and revealed to me and others from her immediate family the beauty that we had never seen while she was on earth... and we were amazed at her glory!
She died at the Heart Hospital in Lafayette, La. Saturday, November 27 at 3:00 am. (About a month before, driving to see the movie Therese, I had accidentally turned into this very same hospital thinking it was United Artists and as I read the sign as I was driving away a premonition of something to come struck my heart and I thought to myself, "O God, what is it?") She had been in the hospital for three days and was in perfect health before that. (Me-me always did things fast). I was there with my two babies and as it was getting late we went into the van outside in the parking lot and there the babes went to sleep. I was praying the Hail Mary over and over on automatic pilot and begging for her life to be spared, but God was ready for her. At around 3 am the weather became so bad that the whole van was shaking... I was falling asleep, but still praying... I sat up with a jerk and said, "My Jesus, pardon and mercy through the merits of Your Holy Wounds!" and a few minutes later I saw headlights. It was my cousins coming from the hotel nearby... I knew what to expect... we ran into the hospital and she was gone. The tempest outside blew on... Sitting there in shock I remembered how Celine had ran outside when her sister St. Therese died, and how it was cloudy, and how she had said to herself, "If only the stars were out!" and immediately the clouds parted and she could see a patch of clear sky and the stars shining in the firmament. I thought how I would like such a gift and so I went outside and looked up and to my surprise there, in the cloudy sky, was a perfect clear circle with two shining stars and a little cloud that looked like the shape of an R (my name starts with R)! And as we drove back that night all the lights in Lafayette were out... no stoplights, no streetlights, just darkness... the tempest began again and I could hardly keep the van on the road. The wind was blowing it and the leaves were falling almost as hard as the rain... but on the horizon, in a patch of clear sky, was the full moon shining... a sign of hope for me and a symbol of glory!
As the Gospel read at her funeral Mass said, "Father glorify your name!... I have glorified it and will glorify it again..." Yes, God glorified Himself by taking my grandmother to heaven and he will glorify it again each time he takes one of his saints home.